---
---
How the Jackets & Vests Fit and How to Size Them:
"a measuring tape never lies"
"measure... don't estimate"
"measure... don't use another jacket's size... it surely doesn't fit like a Vanson jacket"
The Vanson's Sport Rider jackets are stocked in men's and women's fittings. Please read on to see how to measure your chest and waist to use the sizing table. These jackets are primarily sized by chest circumference then by waist circumference. When you do the measurement you should be wearing snug fitting jeans and a t-shirt. It helps to have a friend do the measurements.
The Vanson Classic jackets fit differently from these Vanson Sport Rider jackets, so we've provided a separate page to help you size those jackets. Click here to see the size / fit page for Vanson Classic jackets.
How Vanson Leathers Fit and How they Feel
Vanson leather jackets are designed to be worn on a motorcycle. The fit is specific to the application. Fit can be subjective. What feels snug on one can feel loose on another. Vanson garments are designed to be worn snugly. If you plan to use the optional Vanson internal body armor this needs to be considered. There are no hard and fast rules about sizing up or down based on armor or not, just as there are no hard and fast rules about body shapes and sizes. Please remember, there is absolutely no consistency at all in sizing from one clothing manufacturer to another. Do not count on the size of your jeans as being an indicator of what size your waist measures. Vanson's woman's sizing often runs smaller than many women are used to. So you might want to try a size up from what you usually wear in street clothes.
The cut of a motorcycle jacket is different from a traditional garment fit. For example, the sleeves on a Vanson motorcycle jacket are canted forward an average of 17 degrees from a standing position with arms at your sides. When the jacket is zipped with your arms at your sides you may see and feel a little tightness across the chest and the sleeves may seem too long. When you reach for the handlebars all this changes. As the arms come up the logic behind the fit becomes apparent. The chest loosens up, the sleeves that seemed long fall perfectly at the wrist and the tightness across the chest disappears. These jackets are not designed to stand with your arms at your side. They are designed for riding and that's what they excel at. Similarly, the pants are designed to fit most efficiently in the riding position, and they do.
Finally, the stiffness of a new Vanson garment is sometimes confused with tightness. This is because the leather needs to be convinced to give where you need it to. This means that your new garment will learn to accommodate to your particular shape. In other words... your jacket will feel best after it has been "broken in".
Using these measuring instructions in the size table below will lead you to choose a jacket which fits snugly over a t-shirt when the jacket doesn't have the optional internal armor installed. Our experience leads us to recommend that you consider going up one size from the size you get from the table below if you will be wearing thicker clothing under the jacket and/or adding the optional internal body armor.
How to Find Your Size:
Men find their size directly from the chart below... women find their men's size in the chart below and then convert to women's jacket sizing using the conversion table further down the page. Note that women's jackets are cut differently, so women should not order a men's jacket... once you've determined your women's jacket size, order a women's jacket.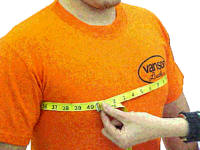 How men should measure their chest:
Men should measure around the fullest part of the chest with tape parallel to the floor, and with arms at sides. This is typically just under the armpits. To get a more accurate measurement, raise arms above head, wrap tape around chest and then lower arms. Be sure that the tape has not moved down in the back. When the measurement is taken the tape should be just snug enough to stay in place without slipping down.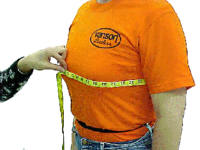 How women should measure their chest:
Women should measure the circumference over the bust. Measure around the widest portion of the bust and back, with tape parallel to floor. When the measurement is taken the tape should be just snug enough to stay in place without slipping down.

How to measure your waist: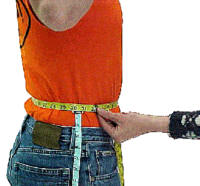 Measure around the waist at the navel / bellybutton. Make sure the tape is parallel to the floor. Do not measure at your hips! This measurement will ensure that your jacket will fit correctly at the waist. The lowest part of the jacket, where it goes over the hips, is adjustable using the Velcro™ adjustment system.
These waists and chest measurements determine the size jacket you should order. The table below shows the recommended U.S. men's jacket size for each combination of waist and chest size.
On either side of the table , the approximate height and weight ranges are shown. Remember that the jacket is sized using primarily the chest measurement backed up by the waist measurement.
Below the size table are metric conversion charts, a table which shows conversion from U.S. men's to U.S. women's jacket sizes and a table which shows conversion between U.S. men's sizes and European men's jacket sizes. You can use this to see if the size you get from our chart is what your would expect.
If your combination of waist and chest size falls outside of the recommended jacket sizes, you will either have to order a custom jacket directly from Vanson Leathers or choose the closest size which will fit both your chest and waist.
U.S. Men's Size Table for Vanson Sportrider Jackets & Vests
metric conversions below this table
Waist Size in inches (measured at your navel.. not your hips!)

height
inches

Chest
size inches

26"
28"
30"
32"
34"
36"
38"
40"
42"
44"
46-
48"
50-
52"
54-
56"
58-
60"

weight
pounds

66-70"

28-30

32
100-120

32

32
32
120-130

34

34
34
34
36
130-140

36

36
36
36
38
140-150
68-72"

38

38
38
38
40
150-160

40

40
40
40
42
160-170

42

42
42
42
44
170-180

44

44
44
44
46
180-190

46

46
46
46
48
190-200
70-74"

48

48
48
48
50
200-210

50

50
50
50
52
210-220

52

52
52
54
220-230

54

54
54
56
230-240

56

56
58
240-250
71-75"

58

58
250-260

60

60
260-270

62

62
62
270-280

U.S. Men's Jacket Size
1 inch = 2.54 cm
1 pound = 0.454 kg
1 cm = 0.394 inches
1 kg = 2.205 pounds
1 stone = 14 pounds = 6.35 kg
1 furlong = 201.2 meters
U.S. Men's / U.S. Women's jacket size conversion

Men's
32
34
36
38
40
42
44
46
48
Women's
4
6
8
10
12
14
16
18
20
U.S. Men's / European Men's jacket size conversion

U.S.
32
34
36
38
40
42
44
46
48
50
52
54
56
58
60
62
Europe
42
44
46
48
50
52
54
56
58
60
62
64
66
68
70
72
---
BIG BLACK BOOTS Home Page
Email questions or comments to





BIG BLACK BOOTS Web Pages - Copyright © 2017 Ron Belanger / Big Black Boots
All Rights Reserved - links permitted and encouraged


Last edited 27 August, 2017 at 06:21 GMT


---