---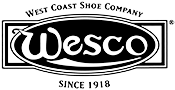 WESCO Boot Features
Page 1 of 2
To WESCO Boot Features - Page 2
Boot Menu | Boot FAQ | Contact | Shipping |
- Big Black Boots is closed -

Big Black Boots has been selling boots since 1985 and online since 1995. We were the first boot store on the internet! But after all these years we have retired.

We've closed our web store, but we're keeping the website information pages up along with the order forms. Each contains a wealth of information which can help when you order directly from Wesco or Dehner.

The order forms contain additional information about the boots and how to fit them. But they no longer accept orders or payment info.

Our email address at

will be kept active if you need to contact us.

Our customer lists and records are NOT for sale.

Thanks for being such great customers over the years. It's been a pleasure helping you get into great boots that fit well.

Ron & Rich

Big Black Boots
---
Stitchdown Sole Construction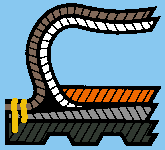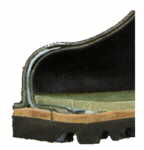 The stitchdown sole has always been considered the ultimate in boot construction. Stitchdown construction helps seal the boot against dirt, mud and water and maximizes flexibility.
This is the same construction technique used in the highest quality leather mountaineering boots. The inner leather layer of the boot is secured between the leather insole and midsole then the vamp (the outer leather layer) is turned out and stitched to the edge of the sole with super tough dacron thread.
Stitchdown construction also allows the boot to be constructed with fewer nails. This is advantageous because nails eventually cause deterioration of the leather. Stitchdown soles are standard on all WESCO boots.
---
| | | |
| --- | --- | --- |
| | The metal heel breast plate is recessed into the leather and protects the heel against climbing spurs. This is a standard feature on all lineman boots. This feature also protects against dirt bike foot pegs. | |
---
The "extra half slip" is an extra leather insole which extends from the heel through the instep (about the middle of the foot). It's about 4 mm thick.

It's purpose is to provide additional rigidity and support to the arch of the boot. This is important for lineman boots because they are typically worn by linemen who spend their work day on ladders. This ensures that they will be able to stand on a ladder for hours at a time without having the sole bend at the arch and dig into the foot.

Many people enjoy the benefit of the extra arch support even though they don't stand on ladders all day.

This additional arch support feature can be added to other boot styles for $17, but cannot be omitted from the Highliner boots.
---
Solid Brass Lacing Studs
The lacing studs are machined from solid brass for strength and durability. The special low profile / high-strength design for logging boots reduces the chances of snagging the lacing studs on brush and they can't be bent. The heavy duty eyelets on Wesco boots are also constructed of solid brass.

Note: Nickel lacing studs and eyelets and black lacing studs and eyelets are available as an extra cost option on custom boot orders. They use the same low-profile / high-strength design.
---
Leather Side Patch & Steel Side Plate
The leather side patch and the steel side plate are features on linemen's boots which protect it from wear when climbing poles. These features also do a good job protecting the boot from motorcycle shift levers and brake pedals. The leather side patch can also be ordered as an option the Wesco Jobmaster boots. The steel side plate is omitted when the heavy Vibram lug sole ( # 100 ) is installed since the sole is too thick.
---
Wesco Pull-on Boots - Top Strap Options
Wesco Boss Engineer boots & Harness boots can be made with various top strap configurations.
The Boss engineer boots come with 1 strap & buckle standard up to 18" and 2 straps & buckles standard 19" and up.
The Harness boots come standard with side pull straps.
The Wesco Motor Patrol boots come with nylon pull straps inside the boot shafts. No other options are available.
The Western Boss comes with a scalloped shaft top and side pull strap, with no other options available.
However, on Boss and Harness boots, you can specify no top straps or one, two or three buckled top straps or side pull straps. There is an option charge for extra buckled straps. Prices are shown on the boot info pages and order forms.
Straps can also be ordered 1", 2" or 3" longer for an extra charge.
The straps allow you to snug up the boot top so there's no gap between the boots and your pants ( these boots are meant to be worn with the pants tucked in). The straps are not needed to hold the boot tops up since these boots are built with thick leather.
---
Wesco Boots Instep Strap Options
The Wesco Boss engineer boots have round toes and normally come with the simple instep strap shown on the right. As an option you can specify no strap or you can substitute the harness straps described below which are normally used on the harness boots.
Silver colored nickel buckles are used with black leathers and brass buckles are used with the brown and redwood leathers. Of course, you can specify your choice of brass or nickel.
The strap is normally not needed to hold the boots on your foot, but it can be used to tighten the fit of the instep.
The harness ring and strap shown on the right is standard on Wesco harness boots and optional on the Wesco Boss boots. Silver-colored nickel rings and rivets are standard with black leather and brass rings and rivets are standard with brown and redwood leather. Of course, you can specify your choice of brass or nickel.
There are no adjustments to the straps... they are a style addition to the boots..
Harness boots have square toes and normally come with these harness straps. You can also substitute the standard instep strap used on Boss engineer boots or no strap at all.
---
Lining Options for Wesco Boots
Wesco offers a number of lining options so boots can be optimized for different environments and applications. But whatever the lining option, Wesco boots are always built with a heavy, supple (4 Ounce / 1.6 mm) glove leather lining throughout the entire foot area. This is part of the superior design of these fine boots and contributes to their strength and comfort.
Standard Boots
Standard Wesco boots have a foot which is leather lined and a boot shaft which is unlined.
Leather Lining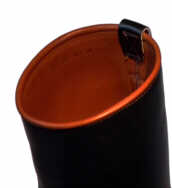 The leather lined boots are lined with supple, smooth, heavy (4 Ounce / 1.6 mm) glove leather in the boot shafts in addition to the standard leather lining in the foot area. This lining leather is considerably thicker than the leather used to line the shafts of cheaper boots. In fact, it's actually heavier than the outer leather of many boots.
Boots can be lined with black, tan, brown, tobacco or platinum colored leather. The tan leather is also known as buckskin. The red leather lining is no longer available.
The leather lining gives the boot shaft a heavier, stiffer feel and helps the shaft hold its distinct shape. When leather lining is used, the boots do not crease as heavily in the ankle area when they're worn, so the leather lined boot shafts don't settle as much as the unlined boots when they're broken in.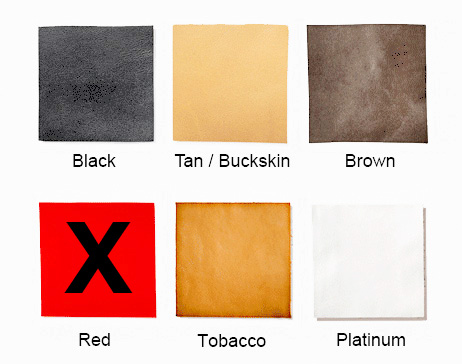 Leather and Thinsulate™ Lining
We've stopped offering this option but it's still available if you order directly from Wesco. We offered Thinsulate for several years until we arrived at the realization that insulation isn't an "add-on option". Boots need extensive design modifications in order for insulation to work well.
We had problems with fit because the insulation, in order to work, needs to be loose... so boots made with Thinsulate are made larger to prevent over compression which would reduce its effectiveness.
Your best bet for real cold weather is some sort of pac boot or the good old white or black Mickey Mouse boots.
If you need support and protection of one of the Wesco Jobmaster or Highliner styles then get a pair about a size larger and one or two widths larger then wear two pairs of heavy wool socks. That's the traditional approach used by many linemen and loggers... a larger winter pair.
On the other hand, if you were interested in insulated Boss boots for winter riding, I think you'll find the tall Boss boots with leather lining... worn with tall heavy socks... will work for any winter conditions you would consider driving in. Hands and knees will usually get numb long before your legs start feeling cold.
All this said, if you really want the Thinsulate insulation option you can order it directly from Wesco. They've decided to keep offering it and can give you advice on fitting.
Cambrelle® Lining
We offer Cambrelle as an option on all Wesco lace-up boots but not on the Wesco pull-on boots. Why not on pull-on boots... because it cannot be sewn to enough places in the boots to keep from pulling out of the boots. The lace-up design allows the lining to be sewn in all the way up the shaft in both the front and the back.
Cambrelle is an incredibly durable material which is designed to last for the life of a pair of boots... ordinary boots. Wesco boots last so much longer than "ordinary" boots that's it's not clear to us if the Cambrelle will make it all the way through the service life of a pair of Wesco boots... however so far so good. Remember that people who have several pairs of Wescos may have a pair which is several decades old.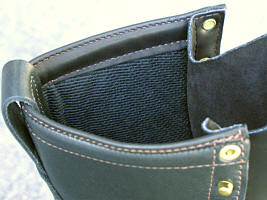 Boots made with the Cambrelle lining option are lined entirely in Cambrelle from the foot through the entire height of the shaft.
Cambrelle is a durable, breathable lining from Dupont. Cambrelle keeps feet cooler in summer and warmer in winter. Its construction provides a comfortable cushioning effect and Cambrelle's unique properties help to keep your feet dry by allowing moisture to pass back into the atmosphere at a remarkably rapid rate.
This lining can be identified by its grey color.
Cambrelle® & Kevlar® Lining
Cambrelle lining backed with 6-oz. Kevlar/Nomex fleece. The Kevlar/Nomex fleece adds to the fire and heat resistant properties of the boots and is a good insulator.
The Kevlar in this lining is there for added strength and heat properties... it is not bullet proof and is not designed to protect against chain saws like the special multi-layer Kevlar fabric which is used for that purpose in some special purpose logging boots.
Boots made with the Cambrelle and Kevlar/Nomex lining option are lined entirely in Cambrelle and Kevlar/Nomex fleece from the foot through the entire height of the shaft.
This lining can be identified by its black color.
---
Cushioned Sole Insert
Wesco has stopped using cushioned sole inserts. The boots now come with a removable leather insole insert.
You can add your own cushioned insert if desired.
---
Stitching on Wesco Boots
Wesco uses multiple rows of extremely strong thread to stitch its boots together. In particular, a very thick, strong white cord is lock stitched through all layers of leather, rubber midsole and Vibram outsole to ensure that the soles stay on in all conditions. This is in addition to the glue used to hold the sole system together.




The uppers of the lace-up boots are subject to considerable stress in tough working conditions so these are sewn with one or two rows of extra strong white thread with a row of brown Dacron thread on either side. This configuration provides extra strength by spreading stress over a wider area.




The uppers of pull-on boots do not come under such high stress in working situations, so their uppers are stitched with double layers of the brown Dacron thread.

When you order custom boots you have the option of specifying black thread instead of the traditional white and brown thread.




Although the standard threads have an excellent reputation in high temperature conditions, the Firestomer boots are sewn using lightweight black no-burn Technora® upper stitching and heavy black Kevlar thread for the soles and uppers. This gives them additional ability to withstand damage from high heat.



Dye the Stitching Black
Of course you could always do it yourself. You can dye your boots' existing white and brown stitching black using the instructions in on our Boot FAQ page. That way you can have the distinctive white thread for a while then switch to black.
---
Safety Toes on Wesco Boots
Wesco offers safety toes on certain stock boots and as an option on custom boots. Both Steel and Composite Safety Toes are available. They meet the most stringent US certification standard: ASTM F2413-05 MI/75 C75 impact and compression class ratings. Wesco's safety toe boots are UL tested and certified to meet those standards.
US standards for safety toes have been upgraded recently and this has placed restrictions on the options which can be chosen on custom Wesco boots when safety toes are specified. Below is the list of restrictions. Not all of our information pages have been updated to reflect these new restrictions and not all of our order forms have been updated yet to catch orders with safety toes which choose options not compatible with the safety toes. So we're still catching these situations as we process orders.
Why is this so complicated? Most boot manufacturers make a limited number of styles with safety toes. Each style has to be individually tested and certified at great expense. The attributes which make up a "style" are the sole type, midsole type, safety toe type, the boot type and the leather types. With Wesco's options there are thousands of combinations which could be made so it's impractical to test them all. Wesco has chosen the most popular combinations of options to have tested. This means that some leathers and some sole types cannot be used for safety boots.
- On lace-up boots, the lace-to-toe lacing style is not compatible with safety toes. There isn't enough room in this style to accommodate the large safety toe box which fits between the inner and outer layer of leather on the toes.


- Only Heavy Weight Oil Tanned leathers, Black, Brown and Redwood, can be used with the safety toes.


- Thicker / Extra midsoles cannot be used with safety toes.


- The tables below show which soles are allowed with each type of safety toe on each type of boot.

Steel Safety Toes

#100 Sole
#430 Sole
#100F Sole
Jobmaster logger boots &
Combat boots
•
•
•
Highliner lineman boots
•
•
X
Boss engineer boots
•
•
•
Electrical Hazard boots
X
X
X

Composite Safety Toes

#100 Sole
#430 Sole
#100F Sole
#109 Sole
#1270 Sole
Jobmaster logger boots &
Combat boots
•
X
X
X
X
Highliner lineman boots
•
•
X
X
X
Boss engineer boots
•
X
X
X
X
Electrical Hazard boots
X
X
X
•
•

- This is not a new restriction, but safety toes are not available for Wesco's optional lasts such as the square toe harness boot lasts and the dress toe normally used on motor patrol boots. However, both of those boot styles can be made with a rounder safety toe and all other features the same as that style normally uses.
---
To WESCO Boot Features - Page 2
---
BIG BLACK BOOTS Home Page
Email questions or comments to





BIG BLACK BOOTS Web Pages - Copyright © 2020 Ron Belanger / Big Black Boots
All Rights Reserved - links permitted and encouraged


Last edited 28 May, 2020 at 21:39 GMT


---