---
Grinders "King"
Steel toe Ranger Boots
20-hole
Home | Boot Menu | Order this Boot | Shipping | Boot FAQ | Grinders 14-hole Ranger boots. | Contact
---
It's all on this page. Scroll down to see everything.
Features:
Black Oil-tanned Leather
- thick & supple
Steel Toe
Leather toe cap
Strong Goodyear welt construction
Thick air-cushion Grinders soles -
famous agressive lug pattern
oil, acid, alkali resistant, long-wearing
15½" (40 cm) tall - 20-holes / eyelets
Heavy leather boot tongue
Strong pull loop makes boots
easier to pull on
Cushioned foot bed
UK Men's Whole Sizes
3 through 12 in medium/wide width -- click here for size conversion and fitting advice
These are stock boots -- not available in custom sizes and configurations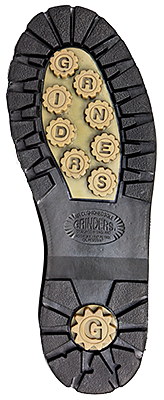 ---
Grinders US distributor has shut its doors. We can no longer get Grinders boots. So we're running out of sizes. These are the UK men's sizes we still have available in the 14-hole and 20-hole boots.
| | | | | | | | | | | |
| --- | --- | --- | --- | --- | --- | --- | --- | --- | --- | --- |
| Version | 3 | 4 | 5 | 6 | 7 | 8 | 9 | 10 | 11 | 12 |
| 14-hole Waxy / Oil Tanned Leather | • | X | X | X | X | • | X | X | X | X |
| 20-hole Waxy / Oil Tanned Leather | X | X | X | X | X | • | X | X | X | X |
The Boots:
These Grinders ranger boots come from a long British heritage of "ranger" boots. The boots worn by British rangers which share the design features of the famous jump boots worn by U.S. paratroopers.

This updated design takes a tough boot and makes it comfortable using thick, supple oil-tanned leather with a waxy finish, thick air-cushioned lug soles and a cushioned footbed.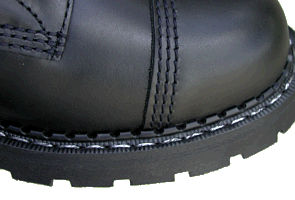 The strong Goodyear welt construction uses extra heavy thread which is lock stitched to ensure these sturdy boots will stay that way.
20-hole? --- That's the British way of describing the height of lace-up boots. You count the number of eyelets or holes up each side of the boot. These 20 hole boots are about 15½" / 40 cm high. The height is measured from top of the boot's heel up the back of the boots and shows how high on your leg the top of the boot will be.
Our pictures shows these boots with black laces with standard lacing. Of course you can lace them any way you want. They look great with colored laces too.

These boots are made with thick, oil-tanned leather with a waxy surface.
They will not take a shine unless you're willing to first remove the wax/oil.
In 2009 Grinders introduced a new premium version of this famous 'Herald' boot which was sold only in England. The 'UK only' version was built using thicker, full-grain, black, oil-tanned leather with a heavy wax finish. This higher quality leather is not plated or polished so it breathes better than shiny leather. And, even though it's thicker and stronger, this waxy leather is softer and more supple than the original shiny leather and very comfortable to wear.
Those boots were sold at a premium price in the UK and weren't available for export. However, they proved so popular that Grinders has decided to switch to this premium leather for all of the black versions of their 14-hole 'Herald' and 20-hole 'King' boots and are now exporting them to the US.
So all black Grinders boots now use this leather. Since Grinders now makes all of their black boots with this premium leather and they don't have to stock both types of leather, they've been able to keep the price low.
So our prices have remained the same.
---
How these boots fit:
| | |
| --- | --- |
| 3½ | 3 |
| 4 | 3 |
| 4½ | 4 |
| 5 | 4 |
| 5½ | 5 |
| 6 | 5 |
| 6½ | 6 |
| 7 | 6 |
| 7½ | 7 |
| 8 | 7 |
| 8½ | 8 |
| 9 | 8 |
| 9½ | 9 |
| 10 | 9 |
| 10½ | 10 |
| 11 | 10 |
| 11½ | 11 |
| 12 | 11 |
| 12½ | 12 |
| 13 | 12 |
These boots are intended to be worn with heavy boot socks. Heavy boot socks help provide a better and more comfortable fit. They keep you cooler in the summer and warmer in the winter (as long as they're not made of cotton). See our F.A.Q. discussion on socks here.
Grinders boots use UK sizing so they run about one size large in length compared to US men's sizing and are a bit wide as well. In other words a Grinders UK size 9 boot will fit about like a U.S. men's size 10 E. The table to the right shows the recommended Grinders size for each US men's size. Note that the Grinders are only available in whole sizes. So this makes choosing the correct size more challenging. Remember that it's better to get a lace-up boot slightly too large than slightly too small. Your toes should NEVER hit the end of any footwear.
The toe box on the Grinders boots is a classic ranger / jump boot toe. It leaves plenty of toe room in both height and width. You can wiggle your toes when wearing these boots. When you have a correct fit, these boots feel spacious.
Before using the table you should first measure your feet to determine your actual US men's size. Use the advice on our measuring page. Click here to see that page.
If you're feet measure slightly over a whole US men's size, such as 9 or 10 then go up a half US men's size. So, if your feet are just over US men's size 9, then use US men's size 9½ when you check the table. This causes you to go up a whole size on the UK sizing. If you went right at US men's 9 the table would suggest a UK size 8. But that size would be slightly too small for you. Of course the UK 9 is slightly too large for your size but you can make up the difference by adding a thicker insole liner. Better to be slightly too large than slightly too small and have your toes hit against the end of the boot.
Women should determine their foot size using the advice we give on our sizing page (see link above). Don't try to convert women's to men's size... it's much more reliable to measure your feet to determine their actual U.S. men's size.
Please don't estimate based on the size of other footwear you own. Boots and shoes vary widely in sizing... the only sure way of getting a good fit is to measure your feet to determine what size they are.
If you're used to British boots such as Dr. Martens you'll find these Grinders boots have a similar fit. But our best advice is to measure your feet.
If the boots feel slightly loose, you can adjust the fit using an extra insole insert to tighten up the fit. And, of course, you should wear these boots with boot socks.
---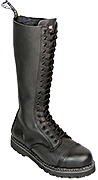 Our LOW Price is $179

Take me to the secure order form for these boots.
Take me to the page for the Grinders 14-hole Ranger boots.
General information about ordering from BIG BLACK BOOTS
How do I know what size to order? / How to measure
---
BIG BLACK BOOTS Home Page
Email questions or comments to

BIG BLACK BOOTS Web Pages - Copyright © 2017 Ron Belanger / Big Black Boots - All Rights Reserved
links permitted and encouraged
Last edited 20 August, 2017 at 05:55 GMT
---