---
---
Care of Dehner Boots
Our Boot FAQ (Frequently Asked Questions) page has a section which shows how to train new Dehners and how to care for them. Click here to see this information.
---
Leather Choices for Dehner Boots
Dehner offers a diverse selection of leathers... each with specific properties suited to a particular type of use. So not every leather is suitable for use on all boot types. The price of each custom boot varies with the choice of leather. The number shown under each leather sample in the picture shows the price group to which that leather belongs. Specific prices for each type of custom boot made of a particular leather are shown on that boot's web page.
French Calfskin
French Calfskin is the the dressiest, most delicate leather and is also the most expensive. It has a fine grain and velvety feel. Dehner's calfskin has a beautiful hand rubbed finish which is crafted at the finest tanneries in Europe. Calfskin is more delicate and requires a bit more care than the other leathers so it is most appropriate for dress boots .
The Cordovan, Brown and Tan calfskin leathers are priced higher than the black calfskin leather because it is more difficult to produce blemish free hides in the lighter colors.
Dragoon
Dragoon is an oil tanned cowhide leather which is more coarse-grained, thicker and more sturdy than the calfskin. It has a flat, dull sheen and can not be shined because of the oil. The heavily oiled surface resists water and is easy to care for. Clean off mud, let dry, then apply more oil. This leather is appropriate for rugged field riding, or field duty.
Voyager
Voyager leather is similar to the "Dragoon" leather but is not oiled. It has a silky surface finish which takes an excellent shine. This leather costs considerably less than the French Calfskin and is more suitable for duty boots which will be worn often. It is tougher than calfskin. It is good value for money. So we strongly recommend the Voyager leather for military and police boots.
Majilite
Majilite is a man made material which is used on the exterior of stock motor-patrol boot shafts. It has excellent properties which make it a good choice for these stiffer boot shafts. It is a low maintenance material which resists scrapes and nicks which might occur on a calfskin boot shaft. All Dehner Motor Patrol boots, including those made with the Majilite shafts are leather lined. Boots which use Majilite in the shafts have a foot which is made of Voyager cowhide leather since it is more appropriate for the foot area.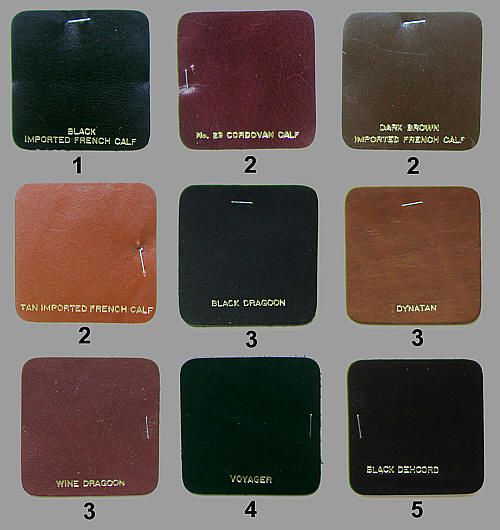 Dehner Leather Choices

Black French Calfskin
Cordovan Calfskin
Dark Brown French Calfskin
Tan French Calfskin
Black "Dragoon" Oil Tanned
"Dynatan" Oil Tanned
Wine "Dragoon" Oil Tanned
Black Voyager Cowhide
Black Dehcord/Majilite
Note: Missing from the picture is the new Dark Brown Voyager cowhide leather.
Price is the same as the Black Voyager.
---
Leather Lining for Dehner Boots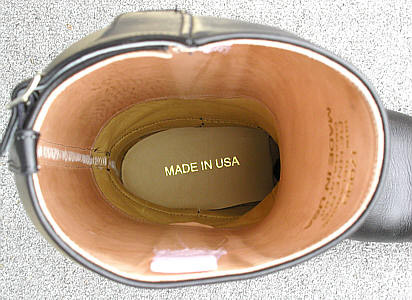 Dehner boots are lined with several types of special lining leather. The particular type and weight of leather lining used depends on the intended use of the boot and which area of the boot is being lined.
Motor Patrol, military and police boot shafts are always leather lined with stiff 5 to 6 ounce bark tanned cowhide which helps them hold their classic shape.
Equestrian boots normally use a lighter weight 2 to 3 ounce bark tanned cowhide which is a bit more supple. These boots can be made fully lined, partly lined or unlined.
On all boots, the lining transitions at the ankle to a supple 3 to 3 ½ ounce, elk tanned glove leather. This supple leather lining is carried through the entire foot and ankle area.
---
Storm Welt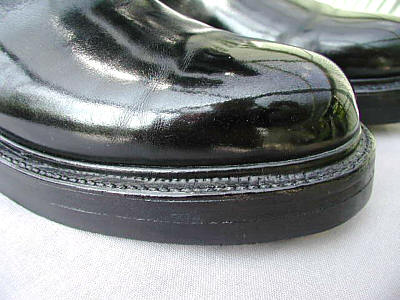 A storm welt is a band of leather which is sewn into the interface between the boot upper and the sole.
Its intended purpose is to keep water from getting into the area where the upper meets the sole and soaking into the boots. It does help to some extent, but is not as effective in doing this as stitchdown construction is.
So the addition of a storm welt is more of a style and appearance choice. Storm welts are traditionally used on military boots so they are standard on Dehner's military boots and indicate that the boots are meant to be used in field conditions.
---
Boot Hooks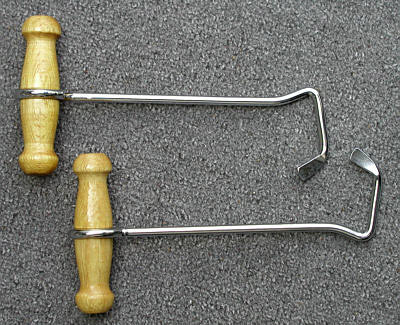 Boot hooks are used to help pull on riding boots and motor patrol boots.
The hooks are placed through the internal nylon pull straps and used to pull the boots on. Once the boots are on, the hook is rotated out of the straps.
These are useful since there isn't room for fingers to be used because the boot shafts are quite snug in properly fitted boots.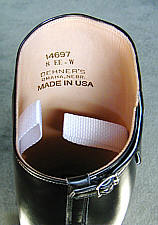 ---
Bootjack
A bootjack is used to help remove your boots when your groom or butler has the day off.
Riding boots tend to fit snugly and can be hard to take off without assistance if a proper groom or butler isn't available... a deplorable situation which has become all too common these days.
So a bootjack is used instead. To use the bootjack, place the boot's heel counter into the suede lined "V" shaped area, put the other foot on the bootjack to hold it down and pull your foot out of the boot. The boot's heel counter is the leather heel cup which holds your heel in place. The heel counter is just above the boot heel. If the boots are tight, you could pull the boot heel off if you put the boot jack on the boot heel instead of the heel counter.
Of course, you could just keep your boots on... they look good on you.
---
Custom Made Donovan Wooden Boot Trees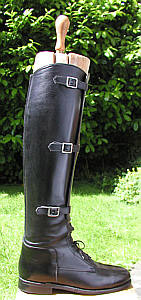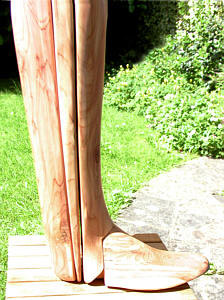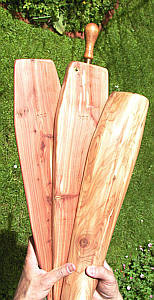 These classic wooden boot trees help care for and preserve your custom made boots. They will keep your boots in their original shape and prolong their life.
The trees are made for Dehner by the Donovan Company from lightweight soft woods and are custom made to fit your boots. They are only available with a new pair of Dehner custom boots.
The trees have a front part with hinged foot, back portion and a middle slide with removable handle for shipping. The wood is beautifully finished and a brass plate with your name inscribed is attached to the top.
The photo above shows the boot trees with Dehner 3-buckle field boots.
---
Spur Straps & Butterflies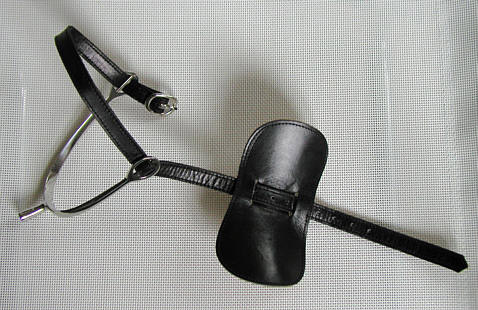 Spur straps hold spurs in place on riding boots. They are made in leather to match the particular boots and can be unlined or lined. The ones shown here are lined and are threfore dressier. The unlined straps are thinner, softer and more flexible. Since the unlined straps are made of one layer of leather, they tend to stretch over time.
The butterfly is an optional leather flap which covers the instep area of boots and protects that area from chafing by the spur straps. It's held in place by the spur straps.
Today this accessory is used mainly with bal-laced boots but it used to be a very popular and fashionable boot accessory which is often seen in 16th and 17th century paintings.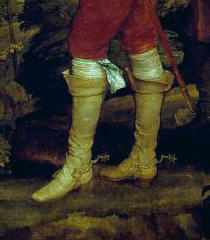 ---
Spur Rest
A spur rest is a leather tab on the heel of the boot which helps to keep spurs in place on the heel by preventing them from slipping down on the heel.

These are a no-cost option on custom Dehner boots and on customized stock Dehner boots being built with the all Voyager or Wayfarer leather options.

Spur rests are not included on stock Dehner motor patrol boots but they can be added to stock boots before they are shipped. There is a $30 charge to do this since it requires some delicate surgery on an already built pair of boots. Shipment of your boots will be delayed for several days while the spur rests are being added to your new stock boots.

These photos show spur rests on a veteran pair of Dehner boots.


---
How to Lace Dehner Motor Patrol and Laced Field Boots
This diagram is dedicated to everyone who's always wanted to know "How'd they do that?". It shows how to lace Dehner Bal-Laced Motor Patrol Boots and 9 eyelet Field Boots. For the 7 eyelet Field Boots, just subtract one from the top, and one from the bottom.
The length of the waxed cotton laces for the bal-laced boots is about 36" / 90 cm. The boots are normally shipped with traditional waxed cotton laces. We can also supply supply 34" / 86 cm round stretch laces made from thin black bungee cord. These look great and typically allow most folks to lace the boots once then simply slip the boots off and on without undoing the laces.
This method of ladder lacing is a variation of the lacing style widely used in the UK except that it starts and ends in the middle of the lacing eyelets.
As you can see from the diagram, the boot laces start at the top and the bottom and lacing proceeds towards the middle.
The lace passes from outside to inside on the eyelets colored RED in the diagram and from inside to outside on the eyelets colored GREEN in the diagram.
Start by inserting lace at eyelet number 1, going from outside to inside, and exiting at number 10 going from inside to outside. With the two ends of equal length, proceed through the eyelets as numbered (1-9 then 10-18). The ends will meet in the middle. After you tie the laces you can tuck the ends down into the space between the instep and the interior tongue.
Now for the big question: What does Bal-laced mean?
The term "bal-laced" is derived from the 19th century Balmoral boot which was made popular in England by Prince Albert who wore these at Balmoral Castle. Bal-laced boots and shoes are laced through the instep with a closed tab covering the tongue.
An alternative style is the blucher instep where the lacing system is sewn on top of the instep like a standard shoe lacing. The blucher style instep is used for the Mountie boots.
Our thanks to the staff at The Dehner Company for the updated information on lacing.
---
Official Specifications for Dehner Motor Patrol Boots
UPPER MATERIAL:
On stock boots, Black aniline dyed, good quality, full grained, chromed tanned cowhide leather for the vamps, counters and backstays -- Black Majilte for the legs. Custom boots are made the same way or can be ordered with the entire boot made from calfskin or cowhide.
STYLE:
Boots to have a bal-laced or dress instep, plain toes, flaps and buckles at the tops.
OUTSOLES:
Full double oil proof composition soles of good quality and a six iron midsole.
INSOLES:
Full 7 iron chrome tanned leather insoles, leveled and snuffed.
BOTTOM FILLER:
Cold process cork filler. A custom ribbed steel shank, secured in place by fiber board.
HEELS:
Good quality half rubber heels with a 3-8 plastic base. To be hand attached to the boots.
LININGS:
Vamp:

3 - 3 ½ ounce, elk tanned glove leather. The same leather will be used in the counter linings and shall extend up the leg four inches to give the boot a soft ankle.
Leg:

5 - 5 ½ ounce bark tanned cowhide of good quality. Flank and belly will not be used.
THREAD:
Upper:

Nylon thread with nylon bobbins throughout.
Outseam:

Hot Waxed 8 cord linen thread.
Inseam:

Hot waxed 10 cord linen thread.
METHOD OF CONSTRUCTION:
All boots to be manufactured in the highest quality. All upper and lining pieces will be hand cut and thoroughly inspected to insure that pieces with flank, holes or flesh cuts are not used. Vamps are to be crimped and tacked on crimping boards to dry. Blind eyelets and stitched in glove leather tongue shall be used at the bal-lacing at the instep. The vamp will be attached to the leg by a French seam at the tongue and reinforced by one row of stitches on each side of said seam. Counters shall also be French seamed to the vamp and reinforced in the same manner. "Lay on" construction will not be accepted. Counter and backstay edges shall be inked and top edge to be folded and stitched. Boots will be lasted wet and will remain on the last for at least 10 days. Goodyear welt construction with good quality welt. Celastic toe boxing will be used. Soles will be leveled and waxed, double set ink will be used on the edges. Boot legs will be treed wet and remain on the trees for at least two days.
---
---
BIG BLACK BOOTS Home Page
Email questions or comments to





BIG BLACK BOOTS Web Pages - Copyright © 2020 Ron Belanger / Rich Filia / Big Black Boots
- All Rights Reserved - links welcomed -



Last edited 9 May, 2020 at 20:49 GMT / UTC / Zulu | 9 May, 2020 at 13:49 California / PST


---